Track Interview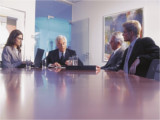 "What do you do when you are in the Hot Seat?"

Max Sacks International is proud to present the Track Interview Course.

What kind and type of questions will you be asked?

How do you know you are prepared?

Regardless of your great resume, and your expertise in your profession, are you worried that one wrong answer will blow the entire interview?
Do you know that the average time for the decision to be made on your new employment is 8 seconds? If you make it past the first minute of the interview is the HR person still interested in you?
Do you want to find out whether the job is going to be the best fit for you and your life, or will it be an actual nightmare out of a movie? Do you like TPS report cover sheets?

Having the proper communication skills is the method which will allow you to persuade the HR person and the entire management team that you are the right person for the position. We can help you to be the best that you can be in the interview and to Sell Yourself.
"When selling becomes a procedure is ceases to be a problem. If it is not a procedure it will always be a problem."

Max Sacks International has been training sales professionals to communicate effectively for almost 60 Years. We have over 300,000 successful graduates in our sales training programs. Our signature training program,The Track Selling System™ is the only scientifically proven program that provides a communication procedure to get your ideas heard. We are built on the success of our students.

Our Track Interview program will change your interview from being a confusing and unfortunate experience to a successful accomplishment.

Our procedure gives you the communication method to find out what the HR person is really interested in. You learn how to find out what they actually want, and to determine who is the person that they are looking for to fill the position. Can you see how this will help you to win?

If you prepare by practicing hundreds of standard questions, the HR person will ask entirely new questions, that you do not have any canned answers for. Use your time effectively to prepare for the interview properly. Do you want to use your time wisely?

You will find that the HR person is only asking one key question and that is; "What's in it for me?" Learn how to ask the correct questions so that you can bring forward the correct answers. Do you think that this approach can work for you?

If we can provide you with the time proven method of communicating properly in a job interview, show you how to be a winner in the hot seat, and give you the confidence necessary to interview correctly, can you think of any reason why you should not sign up and take the Track Interview Course now?

We at Max Sacks International thank you for taking an interest in this course, we are always available to serve you in your success.